Stress is a normal reaction the body has when changes occur, resulting in physical, emotional and intellectual responses. Stress management training can help to deal with things in a healthier manner.
Stress is body's way of responding to any kind of demand or threat. When you sense danger—whether it's real or imagined—the body's defenses kick into high gear in a rapid, automatic process known as the "fight-or-flight" reaction or the "stress response."
The stress response is the body's way of protecting . When working properly, it helps stay focused, energetic, and alert. In emergency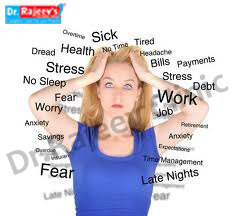 situations, stress can save life—giving extra strength to defend, for example, or spurring to slam on the brakes to avoid a car accident.
Stress can also help rise to meet challenges. It's what keeps you on your toes during a presentation at work, sharpens your concentration when you're attempting the game-winning free throw, or drives you to study for an exam when you'd rather be watching TV. But beyond a certain point, stress stops being helpful and starts causing major damage to your health, mood, productivity, relationships, and your quality of life.
If you frequently find yourself feeling frazzled and overwhelmed, it's time to take action to bring your nervous system back into balance. You can protect yourself—and improve how you think and feel—by learning how to recognize the signs and symptoms of chronic stress and taking steps to reduce its harmful effects.
When you feel threatened, nervous system responds by releasing a flood of stress hormones, including adrenaline and cortisol, which rouse the body for emergency action. Your heart pounds faster, muscles tighten, blood pressure rises, breath quickens, and your senses become sharper. These physical changes increase your strength and stamina, speed up your reaction time, and enhance focus—preparing you to either fight or flee from the danger at hand.
The effects of chronic stress
nervous system isn't very good at distinguishing between emotional and physical threats. If you're super stressed over an argument with a friend, a work deadline, or a mountain of bills, your body can react just as strongly as if you're facing a true life-or-death situation. And the more your emergency stress system is activated, the easier it becomes to trigger, making it harder to shut off.
If you tend to get stressed out frequently, like many of us in today's demanding world, your body may exist in a heightened state of stress most of the time. And that can lead to serious health problems. Chronic stress disrupts nearly every system in your body. It can suppress your immune system, upset your digestive and reproductive systems, increase the risk of heart attack and stroke, and speed up the aging process. It can even rewire the brain, leaving you more vulnerable to anxiety, depression, and other mental health problems.
Health problems caused or exacerbated by stress include:
Depression and anxiety
Pain of any kind
Sleep problems
Autoimmune diseases
Digestive problems
Skin conditions, such as eczema
Weight problems
Reproductive issues
Thinking and memory problems
Signs and symptoms of stress overload
The most dangerous thing about stress is how easily it can creep up on you. You get used to it. It starts to feel familiar, even normal. You don't notice how much it's affecting you, even as it takes a heavy toll. That's why it's important to be aware of the common warning signs and symptoms of stress overload.
Cognitive symptoms:
Memory problems
Inability to concentrate
Poor judgment
Seeing only the negative
Anxious or racing thoughts
Constant worrying
Emotional symptoms:
Depression or general unhappiness
Anxiety and agitation
Moodiness, irritability, or anger
Feeling overwhelmed
Loneliness and isolation
Other mental or emotional health problems
Behavioral symptoms:
Eating more or less
Sleeping too much or too little
Withdrawing from others
Procrastinating or neglecting responsibilities
Using alcohol, cigarettes, or drugs to relax
Nervous habits (e.g. nail biting, pacing)
Causes of stress
The situations and pressures that cause stress are known as stressors. We usually think of stressors as being negative, such as an exhausting work schedule or a rocky relationship. However, anything that puts high demands on you can be stressful. This includes positive events such as getting married, buying a house, going to college, or receiving a promotion.
Of course, not all stress is caused by external factors. Stress can also be internal or self-generated, when you worry excessively about something that may or may not happen, or have irrational, pessimistic thoughts about life.
Finally, what causes stress depends, at least in part, on your perception of it. Something that's stressful to you may not faze someone else; they may even enjoy it. While some of us are terrified of getting up in front of people to perform or speak, for example, others live for the spotlight. Where one person thrives under pressure and performs best in the face of a tight deadline, another will shut down when work demands escalate. And while you may enjoy helping to care for your elderly parents, your siblings may find the demands of caretaking overwhelming and stressful.
Common external causes of stress include:
Major life changes
Work or school
Relationship difficulties
Financial problems
Being too busy
Children and family
Common internal causes of stress include:
Pessimism
Inability to accept uncertainty
Rigid thinking, lack of flexibility
Negative self-talk
Unrealistic expectations / perfectionism
All-or-nothing attitude
Stressful life events
According to the widely validated Holmes and Rahe Stress Scale, these are the top ten stressful life events for adults that can contribute to illness:
Death of a spouse
Divorce
Marriage separation
Imprisonment
Death of a close family member
Injury or illness
Marriage
Job loss
Marriage reconciliation
Retirement
HOMOEOPATHIC TRETMENT
The homeopathic system of medicine carries an excellent scope to help a person manage stress. Homeopathic medicines are constitutional remedies that work on a deep psychological level to give the best results in stress management. They help in building stamina to cope with day-to-day stresses of life. They also help overcome chronic grief that is causing stress. Conditions like depression and anxiety arising from long-standing stress are also treated well with homeopathic medicines.
The top listed homeopathic medicines for stress include :
Kali Phos – Top Medicine to Manage Stress
Kali Phos for stress is a top listed remedy used to manage stress that arises from overstraining of mind at the workplace or home.
A constant state of cares and worries leading to stress is a guiding feature to use this medicine. It helps to relax the overstrained mind. People needing Kali Phos tend to remain sad, irritable and restless and may be over-sensitive to noise and light. The person also tends to feel weak, fatigued and exhausted from minimal exertion. Indifference to life, a weak memory, and stress headaches are treated well with Kali Phos. Sleeplessness from stress is also treated with this homeopathic remedy.
Key indications for using Kali Phos for Stress:
– Overstrained mind
– Fatigue
– Headache and Sleeplessness Ignatia Amara – For Managing Stress due to Grief
Ignatia Amara is a well indicated medicine for managing stress that stems from some grief. For example, the grief over the death of a near or dear one or disappointment in love that leads to stress is treated well with Ignatia. The person needing this medicine has consistently sad thoughts, weeps bitterly and has a desire to be left alone. He/She may also sob and sigh frequently. A changeable mood where the person laughs and weeps in quick succession, an indifference to things the person loved in the past, discouragement, mental and physical exhaustion, and dullness of mind and difficulty in comprehension are some other symptoms that may be noted. Such people may also get frightened easily and tend to have restless sleep. Other related symptoms include head heaviness, loss of appetite, constipation and muscle twitches.
Key indications for using Ignatia Amara for Stress
– Stress from grief
– Continuous sadness and weeping
– Mental and physical exhaustion
Natrum Mur – For Stress that results in Depression
Natrum Mur as a remedy for stress works well in cases where the stress leads to depression. The guiding features to use Natrum Mur are a desire to be alone, aversion to talking and weeping in loneliness. Consolation tends to worsen the condition, and the person develops an aversion to doing any work (whether physical or mental). They are hurried, anxious and hopeless about the future. They also become absent-minded and suffer from weakness of memory. Dullness of mind and difficulty thinking, fluttering of heart and palpitations are other features. Natrum Mur is also useful for treating hair loss resulting from stress and depression.
Key indications for using Natrum Mur for Stress
– A desire for loneliness
– Aversion to work
– Hair loss from stress,e.t.c