TOXOPLASMOSIS IN PREGNANCY
Toxoplasmosis is a protozoan infestation caused by Toxoplasma Gondii.
Infection is transmitted through encysted organism by eating infected raw or uncooked meat or through contact with infected cat faeces. It can also be acquired across the placenta.
The fetal risk of infection increases with duration of pregnancy and is approximately 15%, 30% and 60% in the first, second, third trimesters respectively. The fetus is only at risk if the mother is seronegative.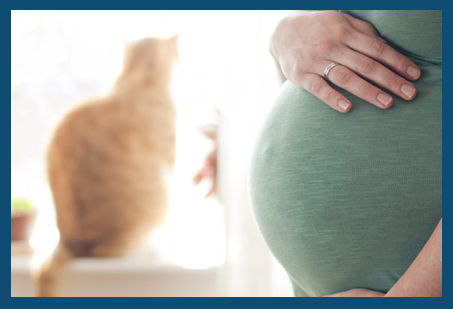 Risk of fetal damage decreases from 60 percent in first trimester to almost zero percent at the end of pregnancy. There is increased rate of abortion, IUGR, and stillbirth.
During parasitaemia, transplacental infection to the fetus occurs. The affected baby may develop hydrocephalus, choroidoretinitis, cerebral calcification, microcephaly and mental retardation. Presence of IgM antibody in the neonates indicates congenital infection. IgG transmitted from the mother persists for many years.
HOMOEOPATHIC MEDICINES FOR TOXOPLASMOSIS DURING PREGNANCY: -
1) Zincum picricum : This medicine can be effectively used in treating cases having the sign and symptoms of toxoplasmosis.
2) Calcarea carb :This remedy acts very efficiently as a constitutional treatment for Toxoplasmosis infection during pregnancy. The patient desires to consume egg and always have a tendency to grow fat.
3) Cina: Can work effectively in managing toxoplasmosis it's further recurrence and complications.
4) Lycopodium : It is commonly prescribed for the acute conditions and may have potential utility against Toxoplasma Gondii.
Maternal infection of Toxoplasma Gondii is rarely diagnosed clinically. Acute infection is diagnosed by detecting IgM specific antibodies,high level of IgG antibody titre and detection of seroconversion for IgG from negative to positive. Routine screening is usually not done.
Chronic maternal toxoplasmosis is not considered to be a significant cause of recurrent Abortion as parasitaemia will not be repeated in subsequent pregnancies.
IF CURRENT INFECTION IS CONFIRMED THE FOLLOWING TESTS ARE CARRIED OUT: -
1) Amniocentesis and cordocentasis for detection of IgM antibody in the amniotic fluid and fetal blood. PCR for T.Gondii gene is also done.
2) Ultrasonography at 20-22 weeks for ventricular dilatation. If the fetus is infected and hydrocephalus is present, counselling for termination is to be done.