PSEUDOBULBAR AFFECT
Pseudobulbar affect (PBA) is a condition which is characterized by episodes of sudden uncontrollable and inappropriate laughing or crying. It typically occurs in people with certain neurological conditions or injuries, which might affect the way the brain controls emotion. In pseudobulbar affect you'll experience emotions normally, but you'll sometimes express them in an exaggerated or inappropriate way. As a result, the condition can be embarrassing and disruptive to your daily life. Pseudobulbar affect often goes undiagnosed or is mistaken for mood disorders.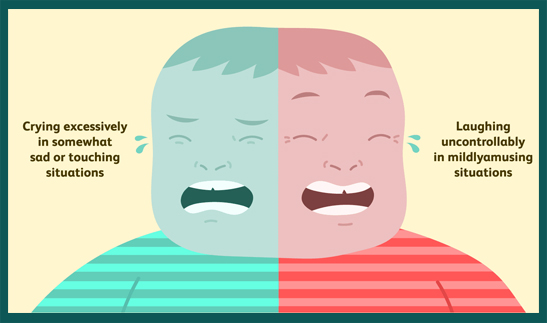 SYMPTOMS : The primary sign of pseudobulbar affect (PBA) is frequent, involuntary and uncontrollable outbursts of crying or laughing that are exaggerated or not connected to your emotional state. Laughter often turns to tears. Crying appears to be a more common sign of PBA than laughing. The degree of the emotional response caused by PBA is often striking, with crying or laughing lasting up to several minutes. For example, you might laugh uncontrollably in response to a mildly amusing comment. Because pseudobulbar affect often involves crying, the condition is frequently mistaken for depression. However, PBA episodes tend to be short in duration, while depression causes a persistent feeling of sadness.
Also, people with PBA often lack certain features of depression, such as sleep disturbances or a loss of appetite. But depression is common among those who have pseudobulbar affect.
CAUSES : Pseudobulbar affect (PBA) typically occurs in people with neurological conditions or injuries, including:
Stroke
Amyotrophic lateral sclerosis (ALS)
Multiple sclerosis (MS)
Traumatic brain injury
Alzheimer's disease
Parkinson's disease
COMPLICATIONS
Severe symptoms of pseudobulbar affect (PBA) can cause embarrassment, social isolation, anxiety and depression. The condition might interfere with your ability to work and do daily tasks, especially when you're already coping with a neurological condition
HOMOEOPATHIC MANAGEMENT
CAUSTICUM - Least thing makes it cry. Sad, hopeless. Intensely sympathetic. Ailments from long-lasting grief, sudden emotions. Thinking of complaints, Sensation of empty space between forehead and brain.
COFFEA CRUDA - Gaiety, easy comprehension, irritability, excited; senses acute. Impressionable, especially to pleasurable impressions. Full of ideas, quick to act. Tossing about in anguish.
CONIUM MAC - Excitement causes mental depression. Depressed, timid, averse to society, and afraid of being alone. No inclination for business or study; takes no interest in anything. Memory weak; unable to sustain 'any mental effort.
CANNABIS IND - exuberance of spirits. Time seems too long; seconds seem ages; a few rods an immense distance. Constantly theorizing. Anxious depression; constant fear of becoming insane. Mania, must constantly move. Very forgetful; cannot finish sentence. Is lost in delicious thought. Uncontrollable laughter. Delirium tremens. Clairvoyance. Emotional excitement; rapid change of mood. Cannot
ABSINTHIUM - Hallucinations. Frightful visions. Kleptomania. Loss of memory. Forgets what has recently happened. Wants nothing to do with anybody. Brutal
GELSEMIUM - Desire to be quiet, to be left alone. Dullness, languor, listless. "Discerning's are lethargies. " Apathy regarding his illness. Absolute lack of fear. Delirious on falling to sleep. Emotional excitement, fear.
NUX-MOSCHATA - Changeable, Laughing and Crying. Confused, Impaired memory. Bewildered sense, as in a dream. Thinks she has two heads.