Hypothyroidism is a condition characterized by abnormally low thyroid hormone production. There are many disorders that result in hypothyroidism. These disorders may directly or indirectly involve the thyroid gland. Because thyroid hormone affects growth, development, and many cellular processes, inadequate thyroid hormone has widespread consequences for the body. Low thyroid hormone levels decrease metabolism (how energy is used), and increase the risk of other health issues such as heart disease and problems of pregnancy.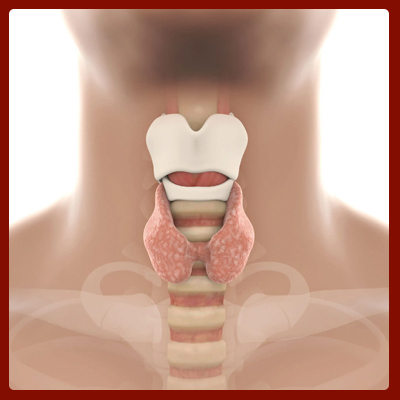 Having a low level of thyroid hormone affects your whole body. It can make you feel tired and weak. If hypothyroidism is not treated, it can raise your cholesterol levels and make you more likely to have a heart attack or stroke. During pregnancy, untreated hypothyroidism can harm your baby. Luckily, hypothyroidism is easy to treat.
Thyroid hormones are produced by the thyroid gland. This gland is located in the lower part of the neck, below the Adam's apple. The gland wraps around the windpipe (trachea) and has a shape that is similar to a butterfly - formed by two wings (lobes) and attached by a middle part (isthmus).
The thyroid gland uses iodine (mostly available from the diet in foods such as seafood, bread, and salt) to produce thyroid hormones. The two most important thyroid hormones are thyroxine (T4) and triiodothyronine (T3), which account for 99% and 1% of thyroid hormones present in the blood respectively. However, the hormone with the most biological activity is T3. Once released from the thyroid gland into the blood, a large amount of T4 is converted into T3 - the active hormone that affects the metabolism of cells.
Thyroid hormone regulation- the chain of command
The thyroid itself is regulated by another gland that is located in the brain, called the pituitary. In turn, the pituitary is regulated in part by the thyroid (via a "feedback" effect of thyroid hormone on the pituitary gland) and by another gland called the hypothalamus.
The hypothalamus releases a hormone called thyrotropin releasing hormone (TRH), which sends a signal to the pituitary to release thyroid stimulating hormone (TSH). In turn, TSH sends a signal to the thyroid to release thyroid hormones. If a disruption occurs at any of these levels, a defect in thyroid hormone production may result in a deficiency of thyroid hormone (hypothyroidism).
Hypothalamus - TRH
Pituitary- TSH
Thyroid- T4 and T3
The rate of thyroid hormone production is controlled by the pituitary gland. If there is an insufficient amount of thyroid hormone circulating in the body to allow for normal functioning, the release of TSH is increased by the pituitary gland in an attempt to stimulate more thyroid hormone production. In contrast, when there is an excessive amount of circulating thyroid hormone, TSH levels fall as the pituitary attempts to decrease the production of thyroid hormone. In persons with hypothyroidism, there is a persistent low level of circulating thyroid hormones.
CAUSES OF HYPOTHYROIDISM
Common causes of hypothyroidism in adults include
Autoimmune Thyroiditis (Hashimoto's Thyroiditis)
This inherited condition is the most common cause of hypothyroidism in adults. Hashimoto's thyroiditis is an autoimmune disease in which the body's immune system, or natural defense system, attacks its own thyroid gland. This causes a thyroid enlargement or goiter and progressive thyroid destruction
Subacute Thyroiditis (inflammation of the thyroid gland after a viral disease)
In this condition there is usually a phase of hyperthyroidism (a condition in which the thyroid produces an excess of thyroid hormones) followed by a hypothyroid phase. Eventually thyroid function returns to normal. The three types of subacute thyroiditis are subacute granulomatous, also referred to as painful thyroiditis; subacute painless thyroiditis, which is silent and also referred to as lymphocytic thyroiditis; and postpartum thyroiditis
Previous Thyroid Therapy
Surgical removal of the thyroid gland may be performed to treat thyroid nodules or other conditions. Treatment of hyperthyroidism with radioactive iodine also results in destruction of thyroid tissue and may lead to hypothyroidism.
Drug-induced Hypothyroidism
Taking some prescription medications may alter thyroid function. These include lithium (Eskalith, Lithobid) and amiodarone (Cordarone).
Pituitary and Hypothalamic disease
Both the hypothalamus and pituitary gland are involved in the signaling pathways that control the function of the thyroid gland. Diseases of the hypothalamus and pituitary gland can, therefore, affect the amount of thyroid hormone made and secreted by the thyroid gland. Hypothyroidism due to pituitary disease is termed "secondary hypothyroidism," while hypothyroidism due to hypothalamic disease is termed "tertiary hypothyroidism."
Iodine deficiency
Iodine deficiency does not occur in the U.S.. Only severe iodine deficiency will cause low thyroid hormone levels. This condition may occur in mountainous areas of poor, less industrialized nations
SYMPTOMS OF HYPOTHYROIDISM
Symptoms and signs of hypothyroidism and their degree of severity may vary and depend on the duration and extent of thyroid hormone deficiency. Individuals with hypothyroidism may experience
Fatigue
Weakness
Intolerance to cold
Muscle aching and cramps
Constipation
Weight gain or difficulty losing weight
Poor appetite
Goiter (enlarged thyroid gland)
Dry, rough skin
Coarse hair or hair loss
Eye and face swelling
Deeper and/or hoarse voice
Irregular or heavy menstrual periods
Depression
Memory loss
Slowed thinking and mental activity
Increased blood cholesterol levels
DIAGNOSIS OF HYPOTHYROIDISM
A diagnosis of hypothyroidism can be suspected in patients with fatigue, cold intolerance, constipation, and dry, flaky skin. A blood test is needed to confirm the diagnosis.
When hypothyroidism is present, the blood levels of thyroid hormones can be measured directly and are usually decreased. However, in early hypothyroidism, the level of thyroid hormones (T3 and T4) may be normal. Therefore, the main tool for the detection of hyperthyroidism is the measurement of the TSH, the thyroid stimulating hormone. As mentioned earlier, TSH is secreted by the pituitary gland. If a decrease of thyroid hormone occurs, the pituitary gland reacts by producing more TSH and the blood TSH level increases in an attempt to encourage thyroid hormone production. This increase in TSH can actually proceed the fall in thyroid hormones by months or years.
HOMEOPATHIC TREATMENT FOR HYPOTHYROIDISM
Many patients have benefitted from our treatment and have been able to take the reigns of their life back into their hands with the help of the same. Homeopathic medicines primarily work at the level of the immune system and gradually bring the deviation back towards normalcy. The medicines help in stimulating the gland to produce the hormones to the optimum level so that the requirement for external supplementation of hormones is minimal or none.
After starting homeopathic treatment, many patients are able to reduce their dependence on conventional drugs and in some cases may be even stop the same. However, this need to be monitored very closely by the treating physician and this is what is precisely done at Auroh. Even in cases where the patient is not able to stop conventional drugs, he can manage his condition better while on homeopathic medicines and there is a general sense of well being that is very essential for a good quality of life. It can also be possible to control the further progress of the condition with the help of homeopathy.
homeopathy is highly recommended for such cases.
HOMEOPATHIC MEDICINE FOR HYPOTHYROIDISM
Calcarea Carbonica: Calcarea Carbonica assumes the top most position in homeopathy for treating hypothyroid cases. It is one of the best remedy for hypothyroidism. Its use is highly recommended in obese people who are always chilly and cannot tolerate cold air. The patient requiring this medicine is fair complexioned, fatty and flabby. Excessive sweating on head is a leading feature for its use in hypothyroid patients. Certain peculiarities in eating habits like craving for boiled eggs, desire for indigestible things like chalk, pencils, lime, and aversion to take fats also guide towards its use in patients of hypothyroidism. This medicine for hypothyroidism can also help in relieving constipation in hypothyroid patients; the peculiar feature is that the first part of stool is hard and is followed by soft stool. This medicine proves to be very efficacious in women with hypothyroidism who suffer from very profuse menses that continue for long durations and occur earlier than the expected date. Coldness of feet is always present during the menstrual period.
Sepia Officinalis: Sepia Officinalis is also a significant medicine for treating the hypothyroid patients. The patients requiring this medicine are very weak, have a pale yellow face and faint very easily especially on exposure to excessive cold temperature. Such patients lack vital heat of body and feel excessively chilly even in a warm room. This medicine can help in treating the menstrual complaints in patients of hypothyroidism where the menses appear too early and are copious in nature. The menstrual complaints are always accompanied by bearing down sensations in pelvis where the patient feels as if the pelvic organs will come out through the vulva and always sit with cross legs to prevent the escape. Sepia Officinalis is also prescribed for controlling the excessive hair fall due to hypothyroidism, especially in women of menopausal age. The next sphere in which this medicine proves very efficacious is the treatment of constipation in hypothyroid patients. The patients requiring this medicine complain of very hard and difficult stool that is passed in small balls with excessive pain during the passing the stool process that continues for long time after the stool. The mental symptoms that are to be considered for its use in hypothyroid patients is extreme irritability and indifferent behaviour towards family members who were earlier very much loved. An unusual excessive craving for acidic things and pickles can also be present.
Lycopodium Clavatum:This is an excellent thyroid Remedy. This medicine is mainly prescribed to those patients of hypothyroidism who suffer from gastric troubles. There is excessive flatulence in the abdomen with acidity that is mainly worse after taking farinaceous food. The complaints are mainly worse from 4:00pm-8:00pm. There is constipation with difficult, hard, incomplete stool. The person craves hot drinks and hot food; craving for sweets may also be found. The person is very weak with yellowish face and blue circles around eyes. The excessive hair falling in a hypothyroid person can be wonderfully tackled with this medicine's use. The patients requiring this medicine are of very irritable nature and cannot bear little contradiction.
Graphites: Graphites is mainly used for those patients of hypothyroidism who are very obese and take on cold very easily. The long standing constipation where the stool is hard and passes with great difficulty in lumps can be treated with this medicine. Such patients also complain of fullness in abdomen due to obstruction of flatus and desire to loosen the clothing to get relief. Mentally the patient is very depressed, sad and weeps easily on listening to music. Timidity and inability to take decisions may also be present.
Nux Vomica: Nux Vomica is a wonderful remedy mainly prescribed in those patients of hypothyroidism who are extremely temperamental in nature and get offended very easily; such people are very sensitive to all external impressions. This medicine works wonderfully in treating the obstinate constipation in hypothyroid patients. The stool is scanty and unsatisfactory where the patient feels constant urge to pass stool but with little evacuation. Bloated feeling in the stomach after eating is also present. There is an excessive desire for stimulants like alcoholic drinks and coffee; fatty food and spicy food. Patient is very chilly. This medicine can also help those women of hypothyroidism who complain of prolonged menses where the menstrual blood is blackish and accompanied by fainting spells.
RL09