Guillain-Barré syndrome is an acute illness which is caused by inflammation of peripheral nerves leading to loss of sensation, muscle weakness and, in more serious cases, complete paralysis and breathing difficulty. In almost eighty percent of children these symptoms follow a recent illness (usually viral). This infection is thought to trigger a faulty response in the immune system.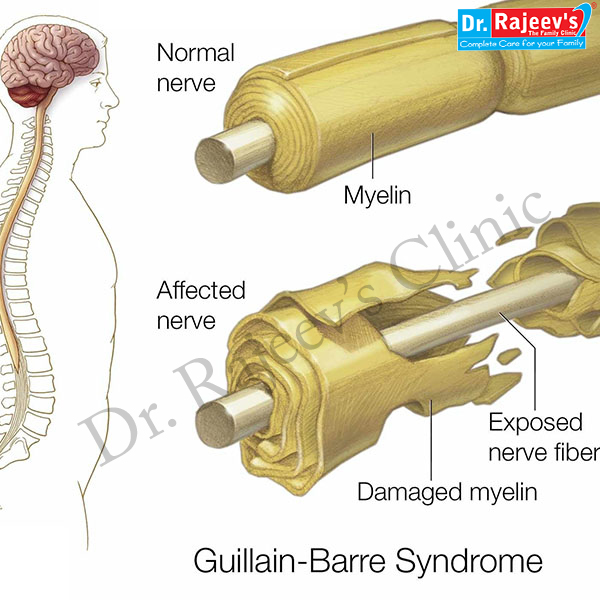 The disease varies in speed of onset with children reaching their maximal disability over a matter of days or, much more gradually over a period of up to four weeks.
SYMPTOMS OF GUILLAIN-BARRE SYNDROME
Guillain-Barre syndrome often begins with tingling and weakness starting in our feet and legs and spread/ing to your upper body and arms. In about 10% of people with the disorder, symptoms begin in the arms or face. As Guillain-Barre syndrome progresses, muscle weakness can evolve into paralysis.
Signs and symptoms of Guillain-Barre syndrome may include:
Prickling, pins and needles sensations in your fingers, toes, ankles or wrists
Weakness in your legs that spreads to your upper body
Unsteady walking or inability to walk or climb stairs
Difficulty with facial movements, including speaking, chewing or swallowing
Double vision or inability to move eyes
Severe pain that may feel achy, shooting or cramplike and may be worse at night
Difficulty with bladder control or bowel function
Rapid heart rate
Low or high blood pressure
Difficulty breathing
People with Guillain-Barre syndrome usually experience their most significant weakness within two weeks after symptoms begin.
TYPES OF GUILLAIN-BARRE SYNDROME
Once thought to be a single disorder, Guillain-Barre syndrome is now known to occur in several forms. The main types are:
Acute inflammatory demyelinating polyradiculoneuropathy (AIDP), the most common form in North America and Europe. The most common sign of AIDP is muscle weakness that starts in the lower part of your body and spreads upward.
Miller Fisher syndrome (MFS), in which paralysis starts in the eyes. MFS is also associated with unsteady gait. MFS is less common in the U.S. but more common in Asia.
Acute motor axonal neuropathy (AMAN) and acute motor-sensory axonal neuropathy (AMSAN) are less common in the U.S. But AMAN and AMSAN are more frequent in China, Japan and Mexico.
CAUSES OF GUILLAIN-BARRE SYNDROME
The exact cause of Guillain-Barre syndrome isn't known. The disorder usually appears days or weeks after a respiratory or digestive tract infection. Rarely, recent surgery or vaccination can trigger Guillain-Barre syndrome. Recently, there have been cases reported following infection with the Zika virus. Guillain-Barre syndrome may also occur after COVID-19 infection.
RISK FACTORS GUILLAIN-BARRE SYNDROME
Guillain-Barre syndrome can affect all age groups. But your risk increases as you age. It's also more common in males than females.
Guillain-Barre syndrome may be triggered by:
Most commonly, infection with campylobacter, a type of bacteria often found in undercooked poultry
Influenza virus
Cytomegalovirus
Epstein-Barr virus
Zika virus
Hepatitis A, B, C and E
HIV, the virus that causes AIDS
Mycoplasma pneumonia
Surgery
Trauma
Hodgkin's lymphoma
Rarely, influenza vaccinations or childhood vaccinations
COVID-19 infection
COMPLICATIONS OF GUILLAIN-BARRE SYNDROME
Guillain-Barre syndrome affects your nerves. Because nerves control your movements and body functions, people with Guillain-Barre may experience:
Breathing difficulties. The weakness or paralysis can spread to the muscles that control your breathing, a potentially fatal complication. Up to 22% of people with Guillain-Barre syndrome need temporary help from a machine to breathe within the first week when they're hospitalized for treatment.
Residual numbness or other sensations. Most people with Guillain-Barre syndrome recover completely or have only minor, residual weakness, numbness or tingling.
Heart and blood pressure problems. Blood pressure fluctuations and irregular heart rhythms (cardiac arrhythmias) are common side effects of Guillain-Barre syndrome.
Pain. One-third of people with Guillain-Barre syndrome experience severe nerve pain, which may be eased with medication.
Bowel and bladder function problems. Sluggish bowel function and urine retention may result from Guillain-Barre syndrome.
Blood clots. People who are immobile due to Guillain-Barre syndrome are at risk of developing blood clots. Until you're able to walk independently, taking blood thinners and wearing support stockings may be recommended.
Pressure sores. Being immobile also puts you at risk of developing bedsores (pressure sores). Frequent repositioning may help avoid this problem.
Relapse. From 2% to 5% of people with Guillain-Barre syndrome experience a relapse.
DIAGNOSIS OF GUILLAIN-BARRE SYNDROME
The diagnosis of Guillain-Barré syndrome is confirmed with a combination of lumbar puncture, where a high protein content is demonstrated in the cerebrospinal fluid and nerve conduction studies, which show slowing of nerve conduction in the nerve roots and/or peripheral nerves.
Recovery usually begins in two to three weeks and may be accompanied by pain and tingling in the limbs. Most children are able to walk unaided by six weeks and most are free from symptoms by about three months. Minorities of patients have some residual problems but these children are usually still able to walk unaided. The condition can occur at any age but there appear to be peak ages of onset in childhood at four years and twelve years. In general children make a much better recovery than adults.
In Guillain-Barré syndrome the body's immune system attacks part of the peripheral nervous system. Usually Guillain-Barré occurs a few days or weeks after the patient has had symptoms of a respiratory or gastrointestinal viral infection. The body's immune system begins to attack the body itself, causing what is known as an autoimmune disease.
HOMEOPATHIC TREATMENT OF GUILLAIN-BARRE SYNDROME
Lathyrus, Phosphorus, Thuja, Calcarea Carb.
RL 40,RL 16