Discoid eczema is a long-term skin condition that causes skin to become itchy, reddened, swollen and cracked in circular or oval patches.
It's also known as discoid dermatitis.
The patches can be a few millimeters to a few centimeters in size and can affect any part of the body, although they don't usually affect the face or scalp.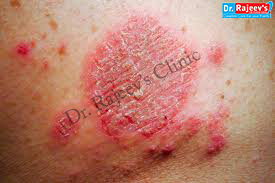 The patches are often swollen, blistered (covered with small fluid-filled pockets) and ooze fluid at first, but become dry, crusty, cracked and flaky over time.
The patches may clear up on their own eventually, but this can take weeks, months or even years if not treated, and they can recur.
CAUSES OF DISCOID ECZEMA
The cause of discoid eczema is unknown, although it is often accompanied by dry skin and is thought to be triggered by irritation of the skin.
Discoid eczema tends to affect adults and is rare in children. It is more common among men aged from 50 to 70 and women in their teens or twenties.
Some people with discoid eczema may also have other types of eczema, such as atopic eczema..
SYMPTOMS OF DISCOID ECZEMA
Discoid eczema causes distinctive circular or oval patches of eczema.
The patches can appear anywhere on the body, including the:
lower legs
forearms
trunk (torso)
hands
feet
The face and scalp are not normally affected.
The first sign of discoid eczema is usually a group of small red spots or bumps on the skin. These then quickly join up to form larger pink, red or brown patches that can range from a few millimeters to several centimeters in size.
Initially, these patches are often swollen, blistered (covered with small fluid-filled pockets) and ooze fluid. They also tend to be very itchy, particularly at night.
Over time, the patches may become dry, crusty, cracked and flaky. The center of the patch also sometimes clears, leaving a ring of discolored skin that can be mistaken for ringworm.
You may just have one patch of discoid eczema, but most people have several patches. The skin between the patches is often dry.
Patches of discoid eczema can last for weeks, months or even years if not treated, and they can be keeping recurring – often in the same area that was affected previously.
Occasionally, areas of skin affected by discoid eczema can be left permanently discolored after the condition has cleared up.
Signs of an infection
Patches of discoid eczema can sometimes become infected. Signs of an infection can include:
the patches oozing a lot of fluid
a yellow crust developing over the patches
the skin around the patches becoming red, hot, swollen, and tender or painful
feeling sick
chills
a general sense of feeling unwell
Other possible triggers
An outbreak of discoid eczema may sometimes be triggered by a minor skin injury, such as an insect bite or a burn.
Some medicines may also be associated with discoid eczema, as patches of eczema can appear in people taking:
interferon and ribavirin – when they are used together to treat hepatitis C
tumor necrosis factor-alpha (TNF-alpha) blockers – which are used to treat some types of arthritis
statins (cholesterol-lowering medication), which can cause dry skin and rashes
Dry environments and cold climates can make discoid eczema worse and sunny or humid (damp) environments may make your symptoms better.
HOMOEOPATHIC TREATMENT FOR DISCOID ECZEMA
Arsenicum album : People who need this remedy usually are anxious, restless, and compulsively neat and orderly. The skin is dry, itches, and burns intensely. Scratching can make the itching worse, and applying heat will bring relief. Indigestion with burning pain and a general feeling of chilliness are often seen when Arsenicum is indicated.
Calcarea carbonica : This remedy is suited to people who are chilly with clammy hands and feet, and tend to develop eczema and cracking skin that is worse in the wintertime. They are easily fatigued by exertion, and feel anxious and overwhelmed if ill or overworked. Cravings for sweets and eggs, a sluggish metabolism, and a tendency toward weight problems are other indications forCalcarea.
Graphites : People likely to respond to this remedy have tough or leathery skin with cracks and soreness, and often have a long-term history of skin disorders (impetigo, herpes, etc.) The areas behind the ears, around the mouth, or on the hands are often cracked, with a golden oozing discharge that hardens into crusts. Itching is worse from getting warm in bed, and the person will often scratch the irritated places till they bleed. Difficulty concentrating, especially in the morning, is often seen in a person who needs Graphites.
Hepar sulphuris calcareum : This remedy may be helpful to very sensitive, chilly people whose eczema is extremely sore and becomes infected easily. The skin, especially on the hands and feet, looks chapped and deeply cracked and is very slow to heal. The person usually feels vulnerable and irritable, with a low resistance to illness and infection.
Mezereum : A person who needs this remedy often has strong anxiety, felt physically in the stomach. Intensely itching eruptions start as blisters, then ooze and form thick crusts, and scratching can lead to thickened skin. Cold applications often help the itch (although the person is chilly in general). A craving for fat and a tendency to feel better in open air are other indications for Mezereum.
Rhus toxicodendron : A person whose eczema has blisterlike eruptions that look red and swollen, itch intensely, and are soothed by hot applications may respond to this remedy. The person is restless from discomfort and often is very irritable and anxious. Muscle stiffness, relieved by warmth and motion, is also likely. A person who needs Rhus tox often craves cold milk.
Sulphur : Intensely burning, itching, inflamed eruptions that are worse from warmth and worse from bathing suggest a need for this remedy. Affected areas may be red, with scaling or crusted skin. Eruptions can be either dry or moist. This remedy is sometimes helpful to people who have repeatedly used medications and ointments on their eczema wi
RL - 22