A lung abscess is a pus-filled cavity in lung surrounded by inflamed tissue. It usually results from breathing bacteria that normally live in mouth or throat into the lungs, leading to an infection.
SYMPTOMS OF LUNG ABSCESS
Symptoms of a lung abscess commonly come slowly over weeks. They may include: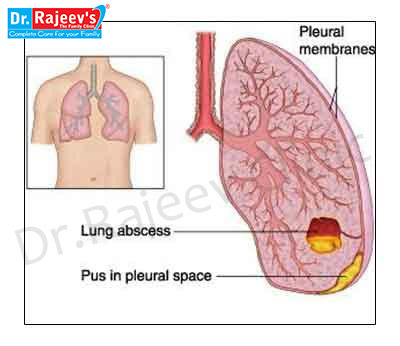 Chest pain, especially when breathe in
Cough
Fatigue
Fever
Loss of appetite
Night sweats
Sputum (a mixture of saliva and mucus) with pus that's often sour-tasting, foul-smelling, or streaked with blood
Weight loss
CAUSES OF LUNG ABSCESS
A number of things can cause a lung abscess, including:
Not being able to cough
Poor oral health
Weak immune system
Blocked airway
Blood-borne causes
DIAGNOSIS OF ABSCESS
A lung abscess is typically diagnosed in two ways:
Chest X-ray: This shows your doctor where the abscess is.
CT scan of the chest: doctor is looking for an air- and fluid-filled cavity in the middle of lung.
Possible complications of a lung abscess include:
Chronic abscess: That's what it's called if it lingers for more than 6 weeks.
Empyema: This is when an abscess breaks into the space between lungs and chest wall and fills the space with pus.
Bleeding: It's rare, but sometimes an abscess can destroy a blood vessel and cause serious bleeding.
Bronchopleural fistula: This is an opening between the tubes in lungs and layers that cover them.