PELIOSIS HEPATIS TREATMENT
It is typically an asymptomatic disorder in which multiple blood-filled cystic spaces develop randomly in the liver.
Peliosis is a Greek word which means discolored by extravagated blood.
Measuring a few millimeters to about 3 cm in diameter, the cysts of peliosis hepatis often lack a cell lining and are surrounded by hepatocytes. Some have an endothelial cell lining, accompanied by dilated hepatic sinusoids. The cause is probably damage to the sinusoidal lining cells. Peliosis hepatis is associated with use of hormones (eg, anabolic steroids, oral contraceptives, glucocorticoids), tamoxifen, vinyl chloride, vitamin A, and, particularly in kidney transplant recipients, azathioprine.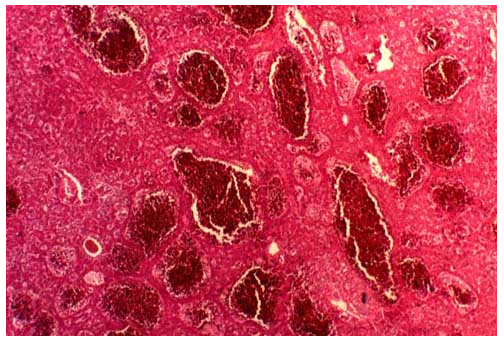 It is a vascular condition in which the sinusoids of the liver proliferate, resulting in engorgement of the capillary bed and cavities within the liver.
It is an uncommon, vascular condition characterized by multiple, randomly distributed blood filled cavities throughout the liver.
SYMPTOMS OF PELIOSIS HEPATIS
Peliosis hepatis is usually asymptomatic, but occasionally cysts rupture, resulting in hemorrhage and sometimes causing death. Some patients develop overt liver disease, characterized by jaundice, hepatomegaly, and liver failure.
Mild cases may be detected incidentally during imaging tests done because liver test results are slightly abnormal or for other reasons.
DIAGNOSIS: - Ultrasonography or CT can detect cysts. Most cases are not treated.
SOME HOMOEOPATHIC REMEDIES WHICH CAN HELP IN ITS MANAGEMENT
1) Bryonia alba: - the patients experience the symptoms like soreness in liver region, stitching, burning pain in abdomen which worsens with pressure, coughing and sneezing. There is hard swelling in right side of abdomen and umbilical region.
2) Cardus marianus:- it is indicated in alcoholics who crave beer. It is also indicated where there is congestion in brain, meningitis, stroke and neuralgia. There is a feeling of soreness and fullness along with pain in liver region while taking deep breaths.
3) Chelidonium majus:- there is a tendency of gall stones with obstruction and enlargement of liver. Jaundice with constant pain in lower part of right scapular region. Thirst with dryness of mouth and throat.