Postnatal depression is a type of depression that many parents experience after having a baby.
It is a common problem which affects more than 1 in every 10 women within a year of giving birth. It can also affect fathers and partners, although this is less common.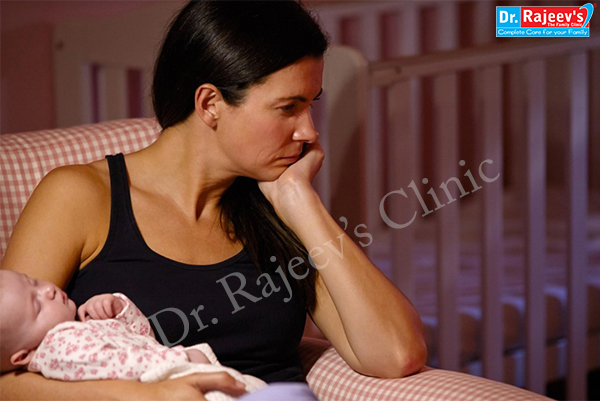 SYMPTOMS OF POSTNATAL DEPRESSION :
Many women feel a bit down, tearful or anxious in the first week after giving birth. This is often called the "baby blues" and is so common that it's considered normal. The "baby blues" don't last for more than two weeks after giving birth.
If one symptoms last longer or start later, one could have postnatal depression. Postnatal depression can start any time in the first year after giving birth.
SIGN OF POSTNATAL DEPRESSION
A persistent feeling of sadness and low mood
Lack of enjoyment and loss of interest in the wider world
Lack of energy and feeling tired all the time
Trouble sleeping at night and feeling sleepy during the day
Difficulty bonding with our baby
Withdrawing from contact with other people
Problems concentrating and making decisions
Frightening thoughts – for example, about hurting their baby
Loss of interest in the world around them and no longer enjoying things that used to give them pleasure
Feeling that they are unable to look after their baby
Problems concentrating and making decisions
PREVENTION FROM POSTNATAL DEPRESSION
There are things one can do during pregnancy to help them to keep well, such as
1.Maintaining a healthy lifestyle
2.Having someone they can talk to and turn to for support.
3.Going to antenatal classes
4.Making friends with other pregnant women
5.New parents can also be helpful.
HOMEOPATHIC MEDICINE FOR POSTNATAL DEPRESSION
NATRUM MURIATICUM
Ueful medicine for postnatal depression with exemplary healing abilities in this cases .Suited to women who are thin, thirsty, under nourished, reserved and seeks solitude. She wants to be left alone. There is great weakness and weariness.Given when Cheerfulness alternates with sadness.There is apprehensive and revengeful.
AURUM MET
Very effective in Postpartum Depression in people who are very dutiful and sensible. There is despair and sense of failure.Recommended for whom who is workaholic and extreme sense of duty.
KALI CARBONICUM
Effective for Postpartum Depression with low spirit. There is anxiety as if they will lose their mind associated with weak memory, forgetfulness, restlessness,sleeplessness.Given when there is extreme irritability with fear of ghosts and being alone.
SEPIA
Very useful medicine for postpartum Depression in women who thinks that she hates her baby and her husband. Mostly Suited to weak, pot bellied, mothers who have yellow complexion and suffer from severe sleeplessness, anxiety and is easily offended. There is sudden prostration with weak, empty, hollow feeling.There is desire to commit suicide and aversion to sympathy. There is irritability with indifference.
RL 47