PCOD (Poly Cystic Ovarian Disease) or PCOS (Poly Cystic Ovarian Syndrome) is a disease characterized by multiple ('poly') cysts (small sacs filled with fluid) in the ovaries. Patients with PCOD have abnormal levels of hormones that result in irregular menses, infertility and certain masculine changes in the body.
CAUSES OF PCOD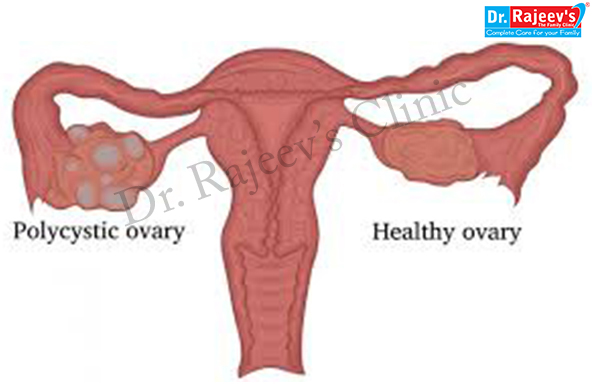 PCOD problems are caused by hormone changes hormonal imbalance. One hormone change triggers another, which changes another.
Raised levels of Testosterone – Androgens or "male hormones," although all women make small amounts of androgens...Higher than normal androgen levels in women can prevent the ovaries from releasing an egg (ovulation) during each menstrual cycle. Excess androgen produced by the theca cells of the ovaries, due either to hyperinsulinemia or increased luteinizing hormone (LH) levels.
Raised levels of Luteinising Hormone (LH) – Due to increased production from the anterior pituitary.This stimulates ovulation but may have an abnormal effect on the ovaries if levels are too high.
Low levels of Sex Hormone-Binding Globulin (SHBG) – A protein in the blood, which binds to testosterone and reduces the effect of testosterone.
Raised levels of Prolactin - Hormone that stimulates the breast glands to produce milk during pregnancy.
High levels of Insulin (a hormone that helps convert sugars and starches into energy) If you have insulin resistance, your ability to use insulin effectively is impaired, and also your pancreas has to secrete more insulin to make glucose available to cells (so, hyperinsulinaemia) Excess insulin might also affect the ovaries by increasing androgen production, which may interfere with the ovaries' ability to ovulate.
OTHER SYMPTOMS
Hereditary component
Overweight.
Stress
SYMPTOMS OF PCOD
Regular/ irregular menstrual cycles, heavy/scanty menstrual flow.
Obesity
Hirsutism, (excessive facial and body hair) as a result of the high androgen levels.
DIAGNOSIS OF PCOD
VAGINAL ULTRASOUND
BLOOD TEST
HOMONAL TEST
HOMOEOPATHIC MEDICINE FOR PCOD

Homeopathic treatment depend upon symptoms totality and cause of disease.To prescribe similimum medicine thorough case history is required to remove the cause and to cure the patient.Some common homeopathic medicine for this disease are Lycopodium, Lachesis, Aurum Muriaticum Natronatum, Calcarea Flour, Apis Mel, Lachesis
OVARY DROP, RL37