CANDIDAL VAGINITIS
Candidal vaginitis is vaginal infection with Candida species, usually C. albicans.
CAUSES OF CANDIDAL VAGINITIS :
Most fungal vaginitis is caused by C. albicans (candidiasis), which colonizes 15 to 20% of nonpregnant and 20 to 40% of pregnant women.
RISK FACTORS FOR CANDIDAL VAGINITIS INCLUDE THE FOLLOWING :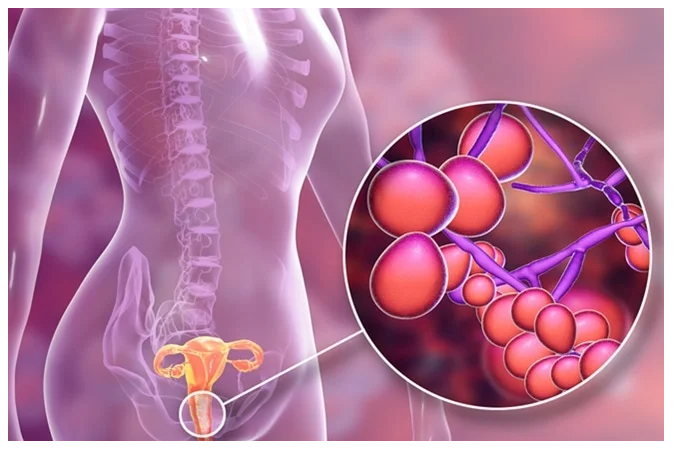 Diabetes
Use of a broad-spectrum antibiotic or corticosteroids
Pregnancy
Constrictive nonporous undergarments
Immunocompromise
Use of an intrauterine device
Candidal vaginitis is uncommon among postmenopausal women except among those taking systemic hormone therapy.
SYMPTOMS AND SIGNS OF CANDIDAL VAGINITIS
Vaginal vulvar pruritus, burning, or irritation (which may be worse during intercourse) and dyspareunia are common, as is a thick, white, cottage cheese–like vaginal discharge that adheres to the vaginal walls. Symptoms and signs increase the week before menses. Erythema, edema, and excoriation are common.
Women with vulvovaginal candidiasis may have no discharge, a scanty white discharge, or the typical cottage cheese–like discharge.
Infection in male sex partners is rare.
Recurrences after treatment are uncommon.
DIAGNOSIS OF CANDIDAL VAGINITIS
Criteria for diagnosing candidal vaginitis include: -
Typical discharge (a thick, white, cottage cheese–like vaginal discharge)
Vaginal pH is < 4.5
Budding yeast, Pseudohyphae, or mycelia visible on a wet mount, especially with potassium hydroxide (KOH).
HOMOEOPATHIC MEDICINES FOR MANAGING CANDIDAL VAGINITIS: -
1) Sepia:- it is prescribed when there is white vaginal discharge. Prescribed in cases where women complaint of itchiness not relieved by scratching, soreness and swelling of labia minora, vulva,vagina, heat in genital area, and excoriation of vulva.
2) Calcarea carb:- prescribed in cases where the discharge worsens after passing urine or the discharge is accompanied by burning and itchiness in genitals.
3) Pulsatilla:- vaginal candidiasis that is characterized by a creamy vaginal discharge can be treated by Pulsatilla. It is usually accompanied by burning and itchiness in genital area. There may be backache, and absence of thirst with a desire for open,cool air.
4) Monilia albicans:- indicated when there is presence of cracks or fissures in the vagina or vulva accompanied by itchiness. There maybe some vesicular eruptions containing fluid on the vulva or vagina.
5) Helonias:- when there is redness and inflammation of genital area alongwith sensation of heat and burning. There may be backache, weakness and prostration.
6) Thuja:- it is usually prescribed where there is excessive discomfort in form of burning sensations in the vulva and vagina.