Chronic cholecystitis is swelling and irritation of the gallbladder that continues over time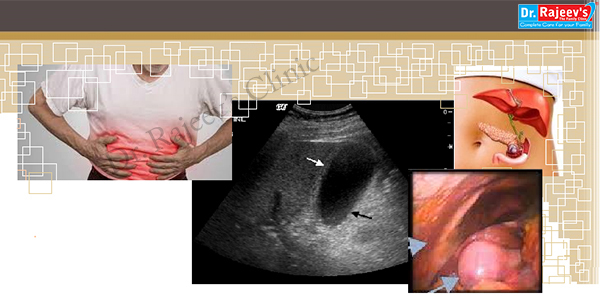 SYMPTOMS OF CHOLECYSTITIS
Signs and symptoms of cholecystitis may include:
Severe pain in upper right or center abdomen
Pain that spreads to right shoulder or back
Tenderness over abdomen when it is touched
Nausea
Vomiting
Fever
Cholecystitis signs and symptoms often occur after a meal, particularly a large or fatty one.
CAUSES OF CHRONIC CHOLECYSTITIS
Cholecystitis occurs when our gallbladder becomes inflamed. Gallbladder inflammation can be caused by:
Gallstones.
Tumor.
Infection.
Blood vessel problems.
RISK FACTORS
Having gallstones is the main risk factor for developing cholecystitis.
COMPLICATION OF CHRONIC CHOLECYSTITIS
Cholecystitis can lead to a number of serious complications, including:
Infection within the gallbladder
Death of gallbladder tissue
Torn gallbladder.
PREVENTION OF CHRONIC CHOLECYSTITIS
One can reduce risk of cholecystitis by taking the following steps to prevent gallstones:
Lose weight slowly
Maintain a healthy weight
Choose a healthy diet
HOMEOPATHIC TREATMENT & MEDICINE FOR CHRONIC CHOLECYSTITIS
CARDUUS M : Indicated for chronic cholecystitis which is caused by abuse of alcoholic beverages, specially beer. Very useful when there is swelling of the gall bladder and painful tenderness. There are stitches in the liver region, especially while lying on the left side.
BERBERIS VULGARIS : Useful medicine for chronic cholecystitis with arresting breathing.Given when pain transmits from the gall bladder to the stomach and is worse by pressure. There is catarrh of the gall bladder which is worse on pressure,extending to the stomach with constipation and a yellow complexion.
CHINATHUS : Useful medicine for chronic cholecystitis with abdominal pain which is better by lying on the abdomen and stomach.There is cutting and twisting pains all over the abdomen.Given when abdomen is sore, enlarged with jaundice and constipation
CHINA : Indicated medicine for chronic cholecystitis with gall stone colic, duodenal catarrh and jaundice. Mostly recommended for Fermentation of bowel .There is frothy, sour diarrhoea with yellow, watery, undigested diarrhoea, with much flatus and no pain.Useful medicine where purgatives have been abused.
CYSTOLAC