Teething is when baby's teeth start to come through their gum line. Another word for it is odontiasis.
Most babies begin to teethe between 4 and 7 months old, but some start much later. There's no need to worry if your baby's teeth come in on another timetable -- it can be different for every baby.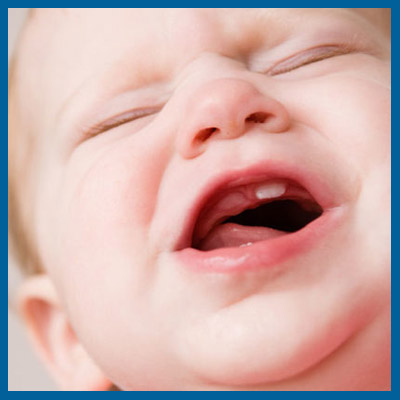 SIGNS AND SYMPTOMS OF TEETHING TROUBLES
The symptoms aren't the same for every baby, but they may include:
Swollen, tender gums
Fussiness and crying
A slightly raised temperature (less than 101 F)
Gnawing or wanting to chew on hard things
Lots of drool, which can cause a rash on their face
Coughing
Rubbing their cheek or pulling their ear
Bringing their hands to their mouth
Changes in eating or sleeping patterns
Teething can be painful, but it doesn't usually make babies sick. Call doctor if baby has diarrhea, vomiting, rashes on the body, a higher fever, or cough and congestion. These aren't normal signs of teething.
When and how teeth come in can be different for every baby and may be based on family history. But most of the time, the lower front two teeth come in first, followed by the opposite top two teeth and the two on either side of those. Next come the two on either side of the bottom front teeth, then the first molars appear. The teeth in front of the first molars are next, and the back molars are the last ones to come in.
In all, 20 "baby teeth" will eventually be in place, usually by age 3.
HOMOEOPATHIC TREATMENT FOR TEETHING TROUBLES